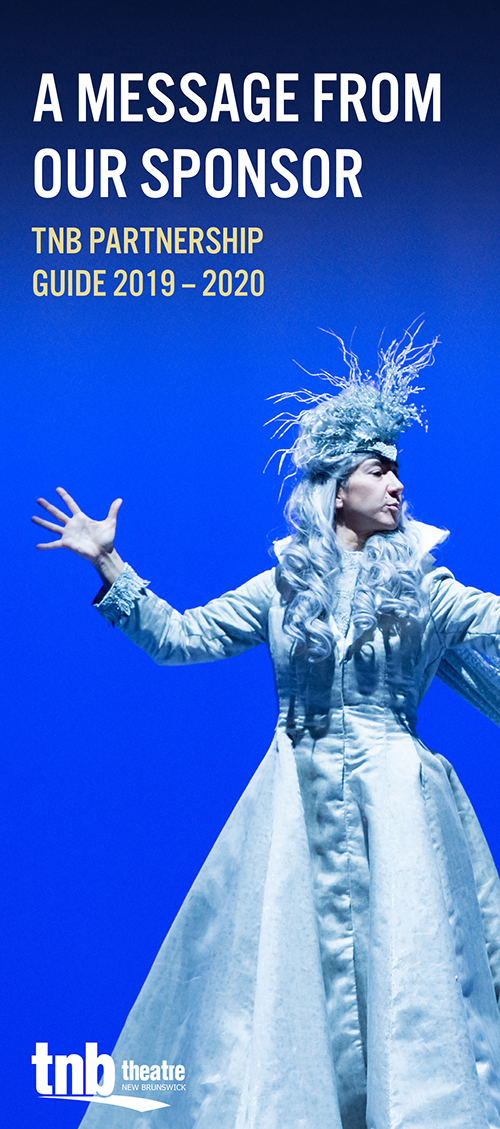 Our 2019-2020 season is full of opportunity!
Each season at Theatre New Brunswick is made possible through the generous support of local business which see the value in contributing to the vibrant culture of arts and performance in our province.
Our 2019-2020 season will feature the work of some of New Brunswick's most talented actors, designers and theatre artists on stages big and small from Bathurst to St. Andrews. With more than 40 performances, workshops and public events planned for the year to come, let is put you right in the middle of it all!
Professional Season:
• 1979 | by Michael Healey | A Political Comedy | Provincial Tour October-November 2019
• It's A Wonderful Life | Live Radio Play adapted by Joe Landry | A Holiday Production| December 2019
• Heroine | by Karen Bassett | A Tale of Two Pirates | Provincial Tour March 2020
TNB Theatre School:
Annie | TNB Theatre School | April 2020
TNB Young Company:
• Boys, Girls and Other Mythological Creatures by Mark Crawford
• It's A Girl! Created by Michelle Raine and Alexis Milligan
Touring New Brunswick Schools February – April 2020
EXTRA:
Finding Wolastoq Voice | by Natalie Sappier | Indigenous Dance Theatre | September 2019 with performances at Ship's Company Theatre and the National Arts Centre
Contact:
Matt Carter
Director of Development and Communications
Director of Development and Communications: Matt Carter
p. 506-460-1381 Ex 113
development@tnb.nb.ca