Theatre New Brunswick's new season puts a renewed focus on provincial audiences and New Brunswick playwrights.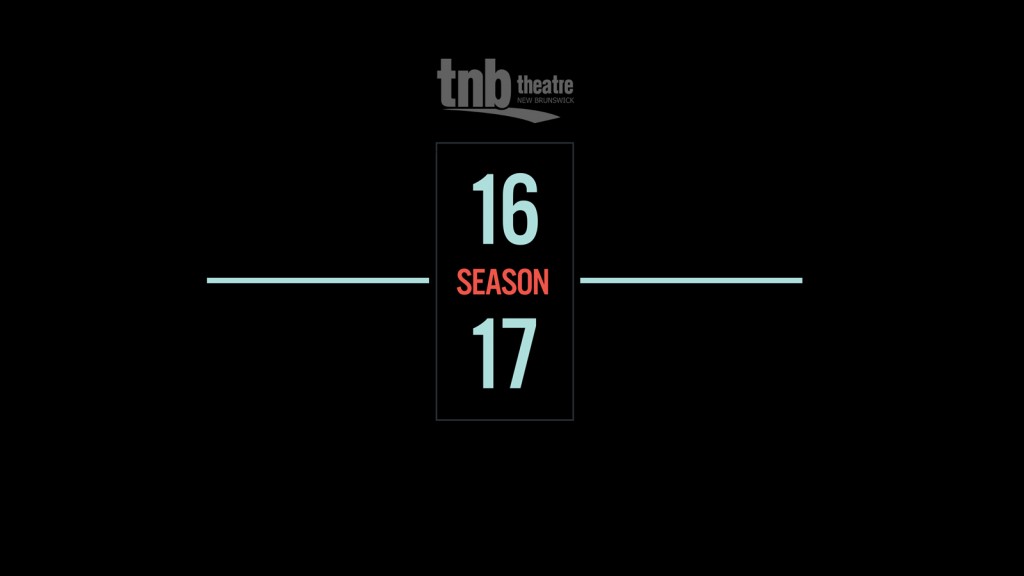 (Fredericton) Following a successful first season under the new partnership of Artistic Director Thomas Morgan Jones and General Manager Susan Ready that included the introduction of a new theatre and a renewed vision for provincial touring, Theatre New Brunswick have announced its 2016-2017 season.  The company's 48th season of theatre will include a historic bilingual partnership, five world premiere productions (including four by New Brunswick playwrights), a substantial increase in provincial touring, the introduction of a performing arts series and one of its most ambitious holiday productions to date.
At an announcement held at the James Joyce Pub in downtown Fredericton, the province's leading professional theatre company unveiled an impressive playbill that aims to place its newly christened Open Space Theatre at the forefront of a new chapter in New Brunswick theatre history.
"We are framing this season around the question 'How can we change?', said Jones. "The plays all have a theme of change within them, but we are changing as a company, too.  All of this change and our bold new activities are to continuously explore how we can be the theatre of New Brunswick, and how we can inspire audiences across the province with our imagination and innovation in the live performing arts.  Needless to say, we're very, very excited for the season ahead."
The season begins with a historic co-production between the Fredericton based theatre company and Caraquet's Théâtre populaire d'Acadie. In October, A Sunday Affair will mark the company's first bilingual co-production to receive performances in both English and French languages, followed closely by Ghost Light, the playwriting debut by Saint John native and celebrated Canadian stage veteran Shawn Wright.
"This is the first play Shawn has ever written so it's a huge privilege for us," said Jones, "especially because it's about his life and his relationship with his mother during the final stages of her life.  This is Shawn's opportunity to give his mother her posthumous professional stage debut.  It's going to be quite something."
The company's annual holiday production will be a new adaptation of the Hans Christian Andersen story, The Snow Queen.  This epic quest story will be brought to life by a cast of five ensemble actors who play more than twenty roles.  Large and striking visuals, snow, gorgeous costumes and an original score by Canadian-born, New York City-based composer Nicky Phillips, will make this a production that is perfect for adults or children.
"The Snow Queen is awe inspiring," said Jones.  "It's epic.  It's also one of the only examples from this period in literature where a young woman goes to save a boy in distress, making it quite an important story to tell.  At its heart, it is a story about friends and family, how we grow and change together, and how we never give up on each other.  It's a perfect fit for the holiday season."
2017 will begin with a world premiere of The Damsel In Distress Who Saved Herself.  Written by Fredericton high school student and TNB Theatre School alumni-turned-playwright Kira Smith, the show will be the centerpiece for TNB Young Company's provincial tour and will receive over 60 performances in schools across the province.
Continuing a three year commitment to the work of New Brunswick playwright Ryan Griffith that began with last season's text messaging play Returning Fire, TNB will premiere Griffith's adaptation of the Alistair MacLeod short story, The Boat, before concluding its season with TNB Theatre School's senior musical theatre production of Shrek, a hilariously entertaining family production that will highlight the school's premier performers with live orchestral accompaniment.
"By the end of the season we will have not only produced our plays here in Fredericton, but will have toured to seven communities in New Brunswick with five of our shows," said Jones. "We will also have toured The Boat to Neptune Theatre in Halifax for three weeks, sharing our New Brunswick voice outside of the province.  We're growing and changing as a company.  Rather than growing in size, we are growing in the depth of our commitment to offering theatre to the people of New Brunswick, and growing our playwright voices here at home.  We are your theatre, the theatre of New Brunswick, and we can't wait to share our plays with you in the season ahead."
Productions:
TNB Young Company Tour:
Performance Series (Open Space Theatre):
Artist Training: