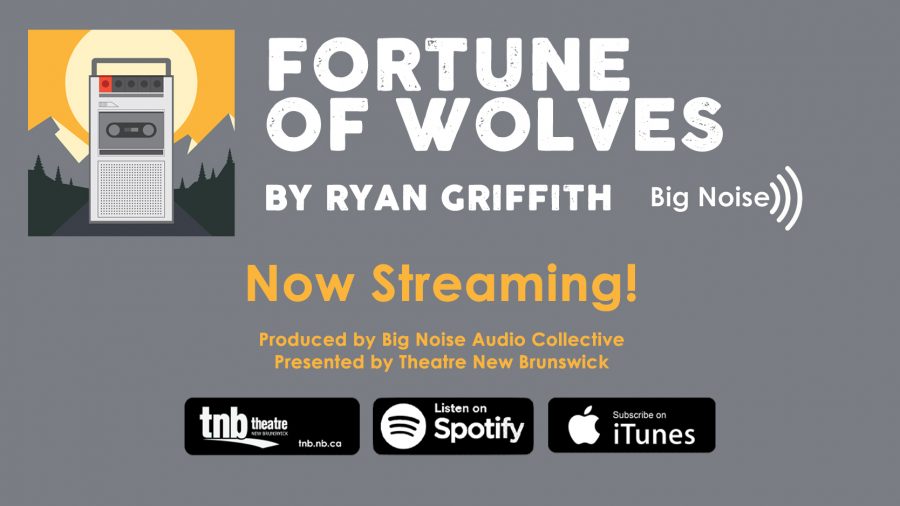 Fortune of Wolves
A podcast series based on the play by Ryan Griffith
Produced by Big Noise Audio Collective
Presented by Theatre New Brunswick
The story behind this series...
Show of hands. Who joined us for the world premiere production of Ryan Griffith's play, Fortune of Wolves? The play launched our third season of programming at the Open Space Theatre making its on-stage debut in the fall of 2017. Directed by Thomas Morgan Jones, Fortune of Wolves featured performances by Carlos Gonzalez-Vio, Graham Percy, Kimwun Perehinec and Michaela Washburn with lighting design by David DeGrow, composition and sound by Deanna Choi, and costumes by Sherry Kinnear.
The play marked our third consecutive production of Griffith's work and remains unlike anything we have done before or since. Made up of more than 60 monologues and characters, the play was designed to be performed on stage with different monologues taking place in each performance. For our production, four actors divided the play's many characters between them. Some were constant. Others fluid. Each night, prior to show time, the evening's characters were chosen at random (we may have rolled dice) and the show was performed. This created a world in which no two performances of the play featured the same cast of characters. It was an amazing demonstration of skill on behalf of the actors in the play, and continues to stand as a demonstration of Griffith's unique approach to theatre creation. But most importantly, Fortune of Wolves is a great story. Dark, apocalyptic, and Canadian in every sense of the word.
This all happened in 2017. Two years later the play was published by Playwrights Canada Press. And then the following year, COVID hit, and everything changed. As theatre companies and actors and artists of all disciplines began exploring new ways to remain creative during a pandemic, Griffith and TNB's Matt Carter came up with the idea to create an audio version of Fortune of Wolves. They formed Big Noise Audio Collective and set to work. When TNB Artistic Director Natasha MacLellan found out about the project, she thought it would be a great project to share with TNB's audience.
The play's apocalyptic themes seem to lend themselves perfectly to this new version of normalcy we are trying to navigate. And by choosing to produce a version of the story that includes every character in the play - all 66 of them - this project proved to be an incredibly collaborative undertaking that was able to bring together artists of all disciplines to work on something together, as a community, during a time when the need for community had for many of us, never been greater.
Our role was an easy one. We provided space for the performers to rehearse and to record. Thanks to the cooperation of our Head of Wardrobe Sherry Kinnear, who allowed her space to be used as a makeshift recording studio, Ryan and Matt were able to learn on the fly, coaxing performances from a very diverse group made up of actors, theatre technicians, musicians, radio hosts, filmmakers, playwrights, and comedians. There are also university professors, photographers, civil servants, writers, teachers and at least one yoga instructor that we know of.
And so it is with great pleasure that we present this podcast production to you, our audience. We've never presented a podcast before. But as we settle into an entirely new era in creativity and audience engagement, presenting something for you to enjoy at home no longer seems that odd. While we wait patiently for the day when we can welcome you all back into our theatre once again, we hope that this series will bring you a bit of comfort, some much needed excitement and help to deepen your appreciation for the incredible wealth of talent that exists here in our province.
Fortune of Wolves Cast
(in order of appearance)
Kat Hall
Jason McIntyre
Devon Luke
Scott Shannon
Len Falkenstein
Anthony Bryan
Elizabeth Goodyear
Megan Murphy
Jake Martin
Abby Paige
Sidney Hallett
Ryan Griffith
Darryl Mesheau
Thandiwe McCarthy
Kathy Mac
Jeremy Gilmer
Gilbert Boyce
Dillon Anthony
Annie Mulholland
Lisa Anne Ross
Ian Goff
Amanda Thorne
Natasha MacLellan
Robbie Lynn
Alexa Higgins
Julie Johnson
Ian Murphy
Ben Harrison
Victoria Urquhart
Natalie Sappier
Ryan Tapley
Brianna Parker Tarasco
Pierre Huard
Gary Weekes
Greg Shanks
Jason Roy
Maggie Estey
Naomi McGowan
Saa Andrew
John Ball
Bet O'Toole
Greg Everett
Matt Spinney
Kaitlyn Adair
Alex Rioux
Rebekah Chassé
Michael Holmes-Lauder
Ilkay Silk
Thomas Fanjoy
Jilly Hanson
Mark Kilfoil
Jennifer Houle
John Rairdon
Matt Carter
Clarisa Hurley
Mark Jarman
Josh Linton
Sharisse LeBrun
Marc-André Charron
Rebecca Tremblay
David R. Maracle
Scott Harris
Tania Breen
Hailey Trifts
Nikki Vigneault
Produced by Big Noise Audio Collective
Director: Ryan Griffith
Assistant Director: Jillian Hanson
Recording, Editing and Sound Design: Matt Carter
Music by Eric Hill (Counting on Downstairs)
Original Artwork by The Details Design+Branding
The producers of this series would like to thank Theatre New Brunswick for its generous support in the production of this audio series by providing space to rehearse and record each of these 66 monologues. Thank you, TNB!

This episode features Kat Hall, Jason McIntyre, Hailey Trifts and Nikki Vigneault.

This episode features Kat Hall, Jason McIntyre, Sharisse LeBrun, Marc-André Charron, Rebecca Tremblay, David R. Maracle, Tania Breen and Scott Harris.  
This episode features Kat Hall, Jason McIntyre, Mark Kilfoil, Jennifer Houle, John Rairdon, Clarisa Hurley, Mark Jarman and Josh Linton.
This episode features Kat Hall, Jason McIntyre, Ilkay Silk, Thomas Fanjoy and Jillian Hanson.  
This episode features Kat Hall, Greg Everett, Matt Spinney, Kaitlyn Adair, Alex Rioux, Rebekah Chassé and Michael Holmes-Lauder.
This episode features Kat Hall, Jason McIntyre, Naomi McGowan, Saw Andrew, Jon Ball and Bet O'Toole.
This episode features Kat Hall, Jason McIntyre and Naomi McGowan.
This episode features Kat Hall, Jason McIntyre, Brianna Parker Tarasco, Pierre Huard, Gary Weekes, Jason Roy, Maggie Estey and Greg Shanks.
This episode features Kat Hall, Jason McIntyre, Julie Johnson, Ian Murphy, Ben Harrison, Victoria Urquhart, Natalie Sappier and Ryan Tapley.
This episode featured Kat Hall, Jason McIntyre, Ian Goff, Amanda Thorne, Jean-Michel Cliche, Natasha MacLellan, Robbie Lynn and Alexa Higgins.
This episode featured Kat Hall, Jason McIntyre, Kathy Mac, Jeremy Gilmer, Gilbert Boyce, Dillon Anthony, Annie Mulholland and Lisa Anne Ross. 
This episode featured Kat Hall, Jason McIntyre, Jake Martin, Abby Paige, Sydney Hallett, Ryan Griffith, Darryl Mesheau and Thandiwe McCarthy.
This episode features Kat Hall, Jason McIntyre, Devon Luke, Scott Shannon, Len Falkenstein, Anthony Bryan, Elizabeth Goodyear and Megan Murphy.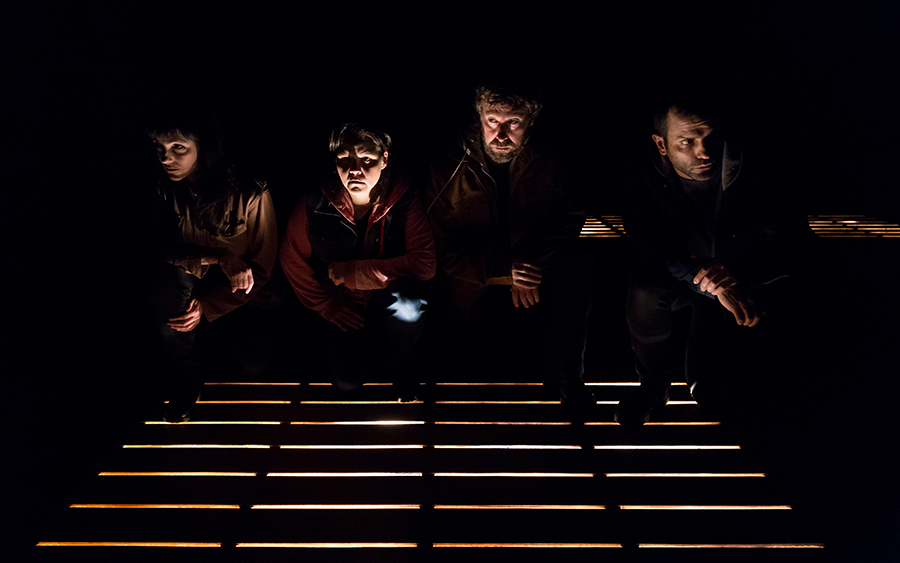 Fortune of Wolves
World Premiere Production: October 12-30, 2017 at Theatre New Brunswick's Open Space Theatre. Directed by Thomas Morgan Jones
Featuring (pictured L-R): Kimwun Perehinec, Michaela Washburn, Graham Percy, and Carlos Gonzalez-Vio.
Light Design by David DeGrow
Composition and Sound Design by Deanna Choi
Costume Design by Sherry Kinnear

Playwright's Notes:
When I was twenty three years old, I was working as a teacher intern on Vancouver Island in a place called Mill Bay. When I finished my term there, I bought a VIA Rail pass, determined to travel back to New Brunswick and see as much of the country as I possibly could in the process, visiting friends and family along the way. And I would take notes. I would become a master writer along the way. Like Morley Callaghan or Alden Nowlan or Fyodor Dostoesky.
I got to see the country as its landscape gradually transformed from west to east. I encountered people very different from the people I worked with on Vancouver Island and very different from people I grew up with in New Brunswick.
Ultimately, I think we all learn that, together, we are all bound to this geography and this land. Ultimately, we all learn that even if we try and conquer something as vast as a geography or as interconnected as community, the best we can hope to accomplish is to learn how to share this land with each other and at least to learn how to love the idea of sharing it together.
You know. If we are actively listening, in our lives. That's the sound if left ringing in my ears anyways.
I left Vancouver Island with a desire to finally conquer this country and master my own life. I arrived at the train station in Moncton with a strong desire to just belong again.
- Ryan Griffith