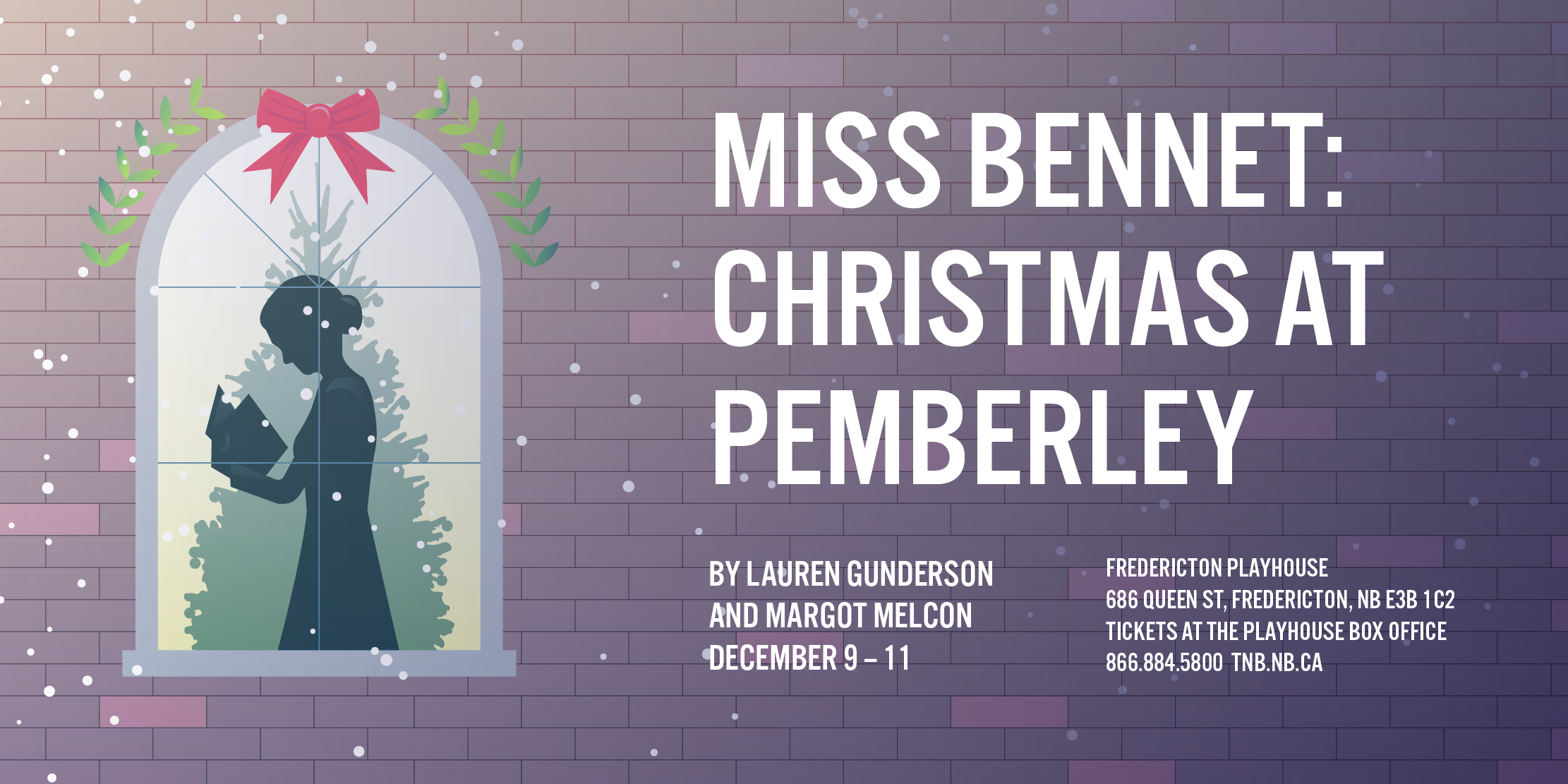 Miss Bennet: Christmas at Pemberley
Fredericton Playhouse | December 9-11 | Imperial Theatre | December 12
By Lauren Gunderson and Margot Melcon. Based on the characters from Jane Austen's Pride and Prejudice.
Theatre New Brunswick return to the stage with Miss Bennet: Christmas at Pemberley, a witty, fun, "sequel" to the Jane Austen classic, Pride and Prejudice. This holiday tale focuses on Mary, the bookish, often over-looked middle child, as she navigates a potential romance with Mr. Darcy's smart but awkward cousin, Arthur. Brought to life by a cast of actors from all four Atlantic provinces under the direction of Ryan G. Hinds, this highly entertaining production draws influence from Netflix's Bridgerton with period style and enough modern wit to delight Jane Austen fans and newcomers alike. A special treat for a holiday season!
Directed by Ryan G. Hinds
Set Design by Andrea Evans
Costume Design by Sherry Kinnear
Lighting Design by Leigh Ann Vardy
Composition & Sound Design by Jodee Richardson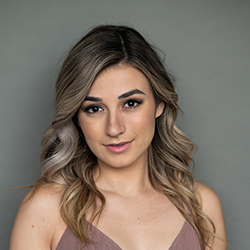 Caroline Coon
Lydia Wickham
Caroline is an emerging artist from New Brunswick who divides her time between Fredericton and Toronto. She is a graduate of Randolph College for the Performing Arts and Brock University. Recent credits include Camelot (Red Panda Productions), King Stag (Randolph College/Toronto Fringe), and Cabaret (Randolph College). She is an actor, writer and producer, who recently staged a production of her play, It Happened at a Party, a touring show written for high school students about consent. She could not be more thrilled to be a part of this amazing company and to be performing in her home province.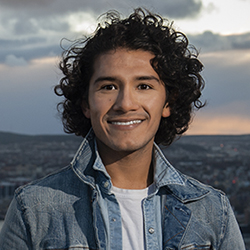 Santiago Guzmán
Charles Bingley
Santiago Guzmán (he/him) is a performer and playwright originally from Metepec, Mexico, now based in St. John's, Newfoundland and Labrador. He is the Artistic Director of TODOS Productions, the Artistic Associate for Playwrights Atlantic Resource Centre and General Manager for Neighbourhood Dance Works in St. John's, NL. He is a proud member of The Quilted Collective.
Selected acting credits include Hunger and The Tales of Dwipa (White Rooster Theatre), The Other Side of This (Artistic Fraud of Newfoundland) No Man's Land and The New Found Lande Trinity Pageant (Rising Tide Theatre), Macbeth (Shakespeare by the Sea Festival), Private Eyes (Power Productions), and ALTAR (TODOS Productions, Resource Centre for the Arts Theatre Company).
As a playwright, his work aims to put historically oppressed narratives and characters to the frontlines, whilst inviting audiences to appreciate the vibrancy of Atlantic Canada from a diverse perspective.
His plays have been supported, developed and/or produced by theatre companies and festivals across the country, like TODOS Productions (NL), Resource Centre for the Arts Theatre Company (NL), Artistic Fraud of Newfoundland (NL), Rising Tide Theatre (NL), Neighbourhood Dance Works (NL), Eastern Front Theatre (NS), Playwrights Atlantic Resource Centre (NS), Ship's Company Theatre (NS), Page1 Theatre (NS), Boca Del Lupo (BC), Paprika Festival (ON), and the National Theatre School of Canada's Art Apart Program (QC).
As an immigrant, queer, and artist of colour, Santiago believes that representation matters.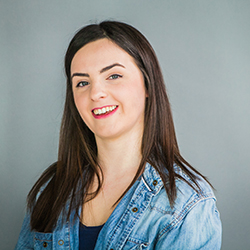 Jillian Hanson
Mary Bennet
Jillian Hanson (she/her) is a Fredericton-based actor. Originally from Woodstock, Jilly lived in Fredericton for four years while attending STU ('13 grad) before moving to Toronto to study theatre at George Brown College. After graduating from GB in 2016, she helped co-found a theatre company, Kindling Collective, that strived to put an intersectional-feminist spark into classic works. In October 2018, Jilly moved back to Fredericton for a work contract which ended up being a transition into being a permanent New Brunswick resident again. Jilly was lucky enough to participate in TNB's Fall Festival of New Plays in October 2020, and with the TNB Young Company in early 2021. Most recently, she performed in Red Panda Productions' An Ocean of Evergreens and Falling Iguana's 81 Minutes during the NotaBle Acts Theatre Festival.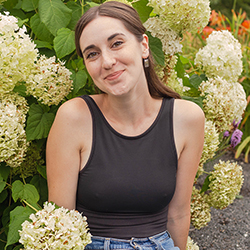 Sharisse LeBrun
Jane Bingley
Sharisse LeBrun is a theatre educator, director and actor. Having grown up in New Brunswick, she has long been involved with the local theatre community with companies including Theatre St. Thomas, Theatre UNB, Bard in the Barracks, Theatre New Brunswick, Notable Acts, and Solo Chicken. After completing her MA in drama, theatre, and performance studies at the University of Toronto, she returned home to take on the role of Director of the Theatre School, and now Director of the Young Company, for Theatre New Brunswick where she gets to spend her days sharing her love of theatre with young people. She couldn't be more thrilled or grateful to be part of her first TNB Mainstage show with this wonderful team.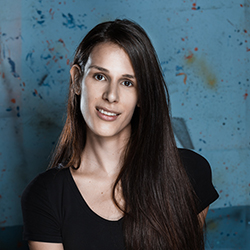 Lara Lewis
Elizabeth Darcy
Lara Lewis is a mixed Mi'kmaq/settler theatre artist from Kjipuktuk, currently living in what is temporarily being called "Fredericton, New Brunswick." As an actor, Lara has worked with Heist, Theatre New Brunswick, Atlantic Repertory Company, Villains Theatre, and Zuppa Theatre, among others. In her other life, she is a dramaturge and has worked on scripts being developed across the country and internationally. An involved community member, Lara has served on the board of several organizations, and is currently the Chair of the Bus Stop Theatre Co-operative.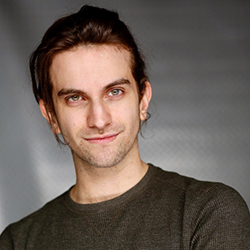 Allie MacDonald
Fitzwilliam Darcy
Allister (Allie) MacDonald is a Cape Breton born Actor based in Toronto. 2020 ACTRA Award Winner for Outstanding Lead Performance for his portrayal of Drag Queen JOAN of Arkansas in the feature film Stage Mother (eOne/Momentum), starring alongside Lucy Liu & 2x Academy Award Nominee Jacki Weaver. Theatre Credits (Selected): Whale Riding Weather (TheatreOutre); This London Life (The Grand/Morris Panych); Will Shakespeare in Shakespeare In Love (Neptune); Foreign Tongue the Musical (Factory/NSTF); Rope Running Out(lemonTree Creations); Kitsault(Price/Pucl); and The Weekend Healer(Kazan Co-op).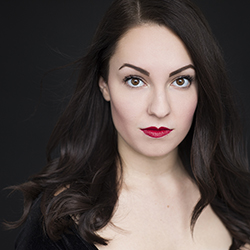 Melissa MacKenzie
Anne deBourgh
Melissa is a performer, creator, and activist from Prince Edward Island. She's trying to figure out how to build a life around storytelling, menstrual equity, and loving other humans. She holds an Honours Bachelor of Music Theatre Performance from Sheridan College and is a co-founder of both Diva Day International (@divaday.ca) and Kitbag Theatre (@kitbagtheatre).
Recent credits: Tuesdays & Sundays, Johnny & June (Kitbag Theatre), Dear Rita (Charlottetown Festival), Signed, Sealed, Delivered (Harmony House), good girl (Trailside Music Hall; 120 Diner), It's a Wonderful Life (Magnus Theatre), Kitsault (Pucl & Price), Anne & Gilbert (The Guild), Crazy for You, Trap Door (Theatre Sheridan), Perfect Wedding, Dirty Rotten Scoundrels (Stephenville Theatre Festival), We Are Canadian, Soul of the Island (Charlottetown Festival Young Company).
@melissamackenz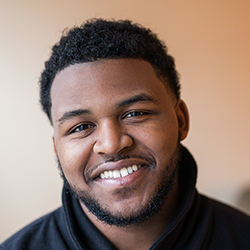 Nathan Simmons
Arthur deBorough
A graduate of the Fountain School of Performing Arts, Nathan D. Simmons is an award winning Halifax-based actor and musician, whom you might have see on screen in Diggstown or Hustle and Heart, for which he won an award, or on the Neptune stage in plays like Controlled Damage and Salt Water Moon. Coming from the community of East Preston, Nova Scotia, his enticing talent and charismatic energy has blessed many stages, not only in Nova Scotia, but across the country.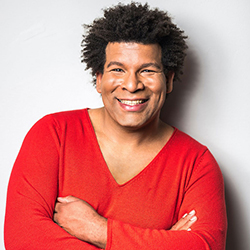 Ryan G. Hinds
Director
An Actor and Director, Ryan has appeared across Canada performing #KanderAndEbb at the Stratford Festival, It's A Wonderful Life for Theatre New Brunswick; Queen's We Will Rock You for Magnus Theatre; Hedwig in Hedwig & the Angry Inch at the Capitol Theatre; Piragua Guy in In The Heights for We Are Here; and Post-Paradise with My Barbarian in New York City, and directing 25th Annual Putnam County Spelling Bee for Vanier College Productions; Cocktails with Maria for Tapestry Opera; and MacArthur Park Suite: A Disco Ballet for Summerworks.
Ryan is also an Associate Artist at lemonTree Creations, where the work has included Lydie-Anne in Lilies; Or, The Revival of a Romantic Drama; the premiere, remount and national tour of dance-theatre hybrid MSM [men seeking men], and the world premiere of Private Eyes. Ryan serves on the national council of Canadian Actors' Equity Association, and has performed alongside artists such as Liza Minnelli, Todrick Hall, Billy Stritch, Taylor Mac, Debbie Reynolds and more. Ryan is thrilled to return to Fredericton and TNB with thanks to Natasha MacLellan for her kindness. More at RyanGHinds.com.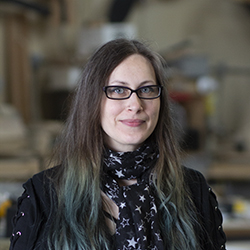 Sherry Kinnear
Costume Designer
Sherry is the costume designer at Theatre New Brunswick and serves as Head of Wardrobe for all branches of the company. Sherry most recently designed costumes for Heroine, A Brief History of the Maritimes and Everywhere Else, A Christmas Carol, Fortune of Wolves, The Boat, The Snow Queen, A Sunday Affair, Marion Bridge, Vigil and The Eighth Fire, as well as The Wizard of Oz, Beauty and the Beast, Mary Poppins, The Drowsy Chaperon, Guys & Dolls, West Side Story, Les Misérables for TNB's musical theatre, and has created costumes for The Lion, the Witch and the Wardrobe, Frankenstein, Miracle on 34th Street, It's a Wonderful Life, Little Shop of Horrors, Gifts of the Magi, The Dollar Woman, Treasure Island and many other TNB productions over the past several years.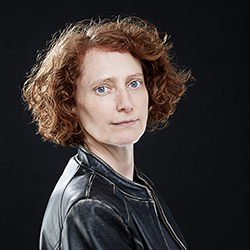 Leigh Ann Vardy
Lighting Designer
Leigh Ann has designed lights for theatre and dance across Canada. Recently she designed Dear Rita (Confederation Centre for the Arts), Everybody Just C@lm The F#ck Down, The Colony of Unrequited Dreams, and Between Breaths (Artistic Fraud) The Neverending Story (Stratford, NAC), The Silver Arrow (Citadel Theatre), The Third Colour (Prairie Theatre Exchange), As You Like it, The Diary of Anne Frank (Stratford) Secret Life of a Mother (Theatre Centre, Crows Theatre), and The God That Comes (2b). Her work has been seen throughout Canada, Australia, New Zealand, Japan, and the US.
Leigh Ann is a teacher and coach at National Theatre School of Canada.
Andrea Evans
Set Designer
Andrea Evans proudly holds a BFA with Honours from York University where she studied Theatre Production and Design. With nearly 20 years' experience, she has worked as a set designer, scenic painter, and props builder for numerous theatres throughout Ontario and the Atlantic provinces. Andrea has worked for theatre companies such as the National Ballet of Canada, Saint John Theatre Company, the Chester Playhouse, Tarragon Theatre, and many others. For two seasons, Andrea worked as an assistant designer at the Stratford Festival. She has also been a guest artist / instructor at numerous high schools teaching stagecraft and design. Andrea has been nominated two times for Toronto's Dora Awards and the proud recipient of a Dora Award for Outstanding Set Design. She is thrilled to be working with TNB and joining such a talented group of artists!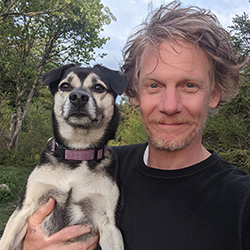 Jodee Richardson
Composer and Sound Designer
Jodee Richardson is one of Newfoundland & Labrador's most diverse and dynamic performers/creators. A renowned singer/songwriter, actor and playwright, Jodee enjoys traveling Atlantic Canada, writing about the people he meets and the places he visits. As a sound designer and composer he has contributed to countless projects throughout AC and he is overjoyed to be working with Theatre New Brunswick on this groovy show...let alone to be out of the house! Onwards into the light, good people!
Miss Bennet: Christmas at Pemberley
December 9 | Fredericton Playhouse | 7:30 p.m. | TICKETS
December 10 | Fredericton Playhouse | 7:30 p.m. | TICKETS
December 11 | Fredericton Playhouse | 2:00 p.m. | TICKETS
December 11 | Fredericton Playhouse | 7:30 p.m. | TICKETS
December 12 | Imperial Theatre | Saint John | 7:30 p.m. | TICKETS