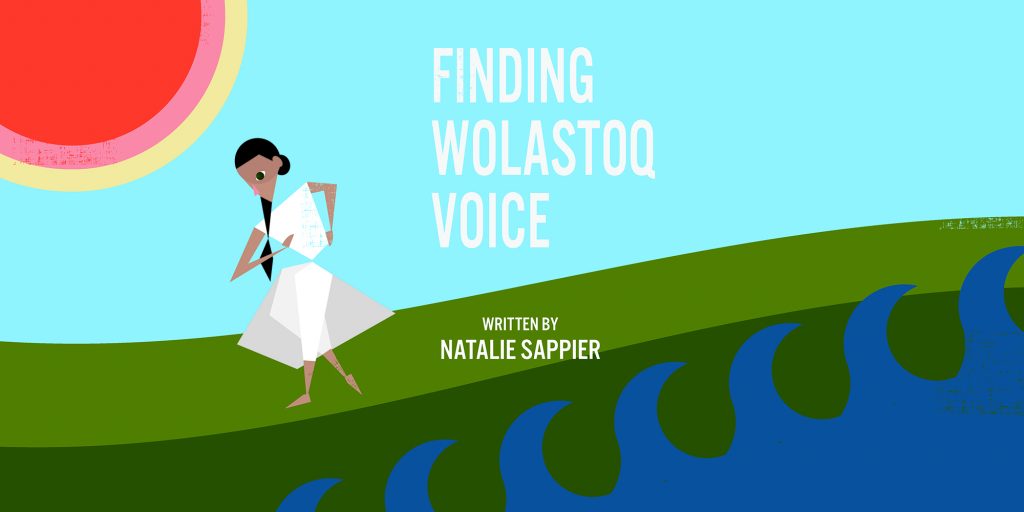 Finding Wolastoq Voice
By Natalie Sappier
A powerful dance/theatre hybrid performance that explores the personal discovery, identity and culture of a young Wolastoqiyik woman awakened by the voices of her ancestors.
Natalie Sappier made her playwriting debut with Finding Wolastoq Voice. As the final professional production of our 2017-2018 season, the play received a two week run in Fredericton and toured the province before wrapping up with a three show run at Native Earth Performing Arts in Toronto. It has since been performed at Manitoba's Prairie Theater Exchange and continues to gain momentum as one of the most relevant and moving works of modern Indigenous theatre.
Ship's Company Theatre
Parrsboro, Nova Scotia
Thursday, September 12, 1 p.m. (School Matinee)
Friday, September 13, 1 p.m. (School Matinee)
Friday, September 13, 8 p.m.
Saturday, September 14, 2 p.m.
Visit Ship's Company Theatre for full details and ticket information
Chief Harold Sappier Memorial Elementary School
St. Mary's First Nation, Fredericton, NB
Tuesday, September 17, 7:30 p.m. (by donation)
Wednesday, September 18, 1 p.m. (School Matinee)
National Arts Centre - Indigenous Theatre Series
Ottawa, Ontario
Saturday, September 21, 8 p.m.
Sunday, September 22, 2 p.m.
Monday, September 23, 8 p.m.
Visit the National Arts Centre for full details and ticket information
Written by Natalie Sappier
Featuring Aria Evans
Creative Team:
Director: Thomas Morgan Jones,
Set and Lighting Designer: Andy Moro
Sound Designer: Michael Doherty
Costume Designer: Sherry Kinnear
Stage Manager: Tammy Faulkner
[rev_slider FWV]