Tilly Jackson is the Assistant Director for our upcoming production of Heroine, a play by Karen Bassett.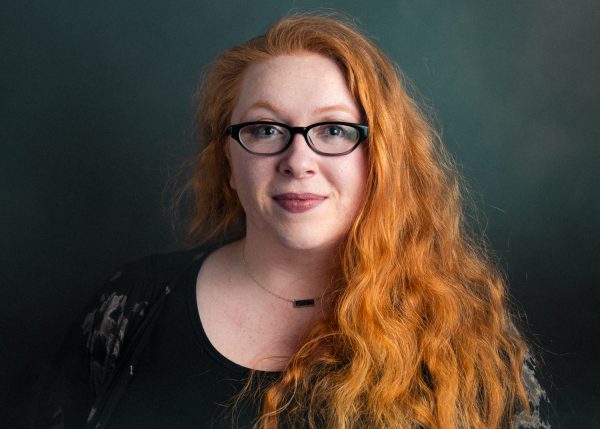 Tilly Jackson has been very active in the Fredericton theatre community over the last ten years, having worked with many local theatre companies as a director, actor, improviser, and playwright. She is thrilled to be working with TNB for the first time, especially on such a swashbuckling adventure! Previous directing credits include: Spearhead Theatre's Agnes of God, Theatre UNB's Rabbit Hole, and NotaBle Acts' It Happened at a Party and Spaceman.
First off, how did you end up being Assistant Director for Heroine and what's the experience been like so far?
As an emerging director, I was looking to expand my experiences with theatre companies in Fredericton, and I reached out to Artistic Director Natasha MacLellan about potentially assistant directing with TNB – it's a great opportunity to observe and learn! The production of "Heroine" especially interested me, since it's a historical piece and focusing on two little-known female figures, the pirates Anne Bonny and Mary Read. Natasha was gracious enough to invite me on board, and here we are!
Thoughts on the play so far?
I love this play! It's got it all; clever dialogue, swashbuckling sword fights, strong and complex female characters, a high stakes setting, and did I mention the sword fights? It's just wonderful, and so entertaining and fast-paced. Of course, it helps that we have two powerhouse actors, Mélanie LeBlanc and Abby Paige, who are both extremely dedicated and engaging performers.
From a director's perspective, what are some of the essential aspects involved in shaping a two-actor performance? Are there specific things you look for to keep a story alive and an audience engaged?
When shaping a two-actor performance, I think the most important things are pacing and chemistry between the actors. You have to keep the pace snappy, and your characters need to crackle with tension. Everyone involved in this production does both beautifully!
This show involves a lot of stage combat. Can you explain the process of working with a fight director?
I've never gotten to observe a fight director's process quite so closely, and it's a real balancing act; for this production in particular, so much of the action revolves around the verbal and physical sparring of the two pirates, and so our fight director Jean-Michel [Cliche] is building all of this choreography, and Natasha is building in all of the moments and blocking within and surrounding it. There's a lot of complicated communication that needs to happen to pull it all off, and we're so lucky to have such a collaborative and professional team to make it run so smoothly!
What do you want audiences to feel or experience with this play?
I want audiences to walk away feeling like they've witnessed a brand new kind of historical retelling; one that focuses not only on women, but on the different and sometimes contradictory ways to be a woman. What I love about this play is its portrayal of these women's "bad behaviour" and their confident bending of the societal rules assigned to their gender, and I hope that audiences leave the theatre thinking about all the ways they can break out of the norm.
About the play:
At the height of piracy's Golden Age, two of history's most famed female pirates sit awaiting execution for their crimes.
Disguised as men, Irish swashbuckler Anne Bonny and English privateer-turned-pirate Mary Read looted, plundered and outfought many of their male counterparts throughout the Caribbean before being captured and sentenced to hang.
Clashing sword fights, brutal wrestling matches and sharp-as-a-blade humour bring these historical figures to the stage to explore what a life well lived truly is.
This production will run at the Open Space Theatre before touring to Bathurst, Florenceville-Bristol, Miramichi, Moncton, St. Andrews, and Saint John.
Upcoming Performances:
Fredericton
March 18 | Open Space Theatre | 55 Whiting Road | 7:30 pm PAY WHAT YOU WISH PREVIEW
March 19 | Open Space Theatre | 55 Whiting Road | 7:30 pm | BUY TICKETS
March 20 | Open Space Theatre | 55 Whiting Road | 7:30 pm | BUY TICKETS
March 21 | Open Space Theatre | 55 Whiting Road | 2:00 pm | BUY TICKETS
March 21 | Open Space Theatre | 55 Whiting Road | 7:30 pm | BUY TICKETS
March 22 | Open Space Theatre | 55 Whiting Road | 2:00 pm | BUY TICKETS
On Tour
March 24 | Bathurst High School | Bathurst, NB | BUY TICKETS
March 25 | Vogue Theatre | Miramichi, NB | BUY TICKETS
March 26 | Aberdeen Cultural Centre | Moncton, NB | BUY TICKETS
March 27 | BMO Theatre | Saint John, NB | BUY TICKETS
March 28 | W.C. O Neill Arena Theatre | St. Andrews, NB | BUY TICKETS
March 29 | Carleton North High School | Florencville-Bristol, NB | BUY TICKETS
Learn more at tnb.nb.ca/heroine/