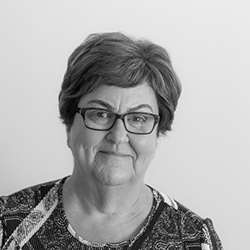 Dear Audience,
It's with great pleasure that I welcome you to Theatre New Brunswick's 50th anniversary season. As we look towards the season to come and all the incredible productions we have in store, I thought we should take a minute to reflect on just how far we've come over the past five decades spent producing professional theatre for audiences throughout the province as well as outside of our own borders.
A lot has happened since Walter Learning first laid the foundation to create a regional touring theatre company back in 1968. Through the years we've welcomed some of Canada's best actors and designers to our province to create breathtaking productions that have inspired audiences from Campbellton to Grand Manan. We've also championed the work of many New Brunswick playwrights and have helped ignite the careers of some of our country's most cherished theatre talent.
Through the work of TNB Young Company and the TNB Theatre School, we've not only helped introduce the magic of live theatre into the lives of countless young New Brunswickers, but have also helped foster the development of next generation theatre lovers and performers. We certainly have a lot to be proud of.
So as we prepare to enter into a new chapter in the history of Theatre New Brunswick, I want to thank you all for being with us and encourage you to share your love for the stage with your family and friends. In a world dominated by disturbing headlines, polarizing political opinions and an ever-growing culture of fear, theatre can not only serve as an escape from the everyday but also become a place where we can gather and experience something real, together, as a community.
See you at the theatre.
Sincerely,
Deborah Burns
Chair, Theatre New Brunswick Board of Governors