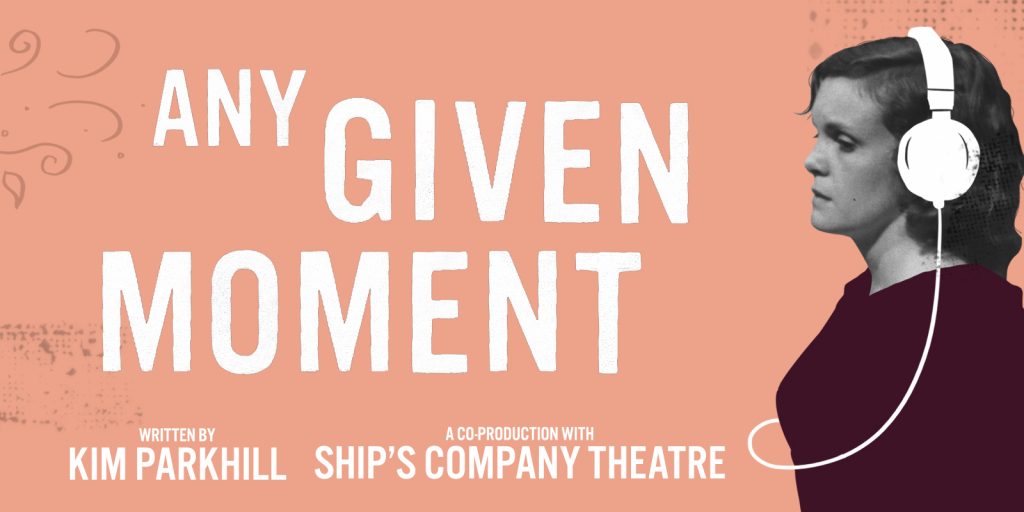 Any Given Moment
A world premiere co-production with Ship's Company Theatre.
A troubled teen, a helicopter mom and a homeless man become trapped together after police lockdown the neighbourhood. Assumptions are challenged and new relationships made as three complete strangers debate the situation and the potential dangers of the outside world. In this world premiere by New Brunswick playwright Kim Parkhill, Any Given Moment presents a touching, hilarious and unexpected look into the culture of fear and challenges our expectations of what we think we know.
Written by Kim Parkhill
Director: Natasha MacLellan
Featuring: Claudia Gutierrez-Perez, Wally MacKinnon and Alexis Milligan
Light Designer: Ingrid Risk
Sound Designer: Aaron Collier
Costume Designer: Cathleen McCormack
Set Designer: Katharine Jenkins-Ryan
Stage Manager: Kirsti Bruce

On Tour
September 4
Purdy Crawford Centre for the Arts | Sackville, NB | 7:30 p.m.
September 5
Bathurst High School | Bathurst, NB | 7:30 p.m.
September 6
théâtre l'Escaouette | Moncton, NB | 7:30 p.m.
September 7
BMO Theatre | Saint John, NB | 7:30 p.m.
September 8
W.C. O'Neill Arena Theatre | St. Andrews, NB | 7:30 p.m.
September 9
Weldon Matthews Theatre | Florenceville-Bristol, NB | 7:30 p.m.
Fredericton
September 12
Open Space Theatre | 55 Whiting Road | 7:30 p.m. PAY WHAT YOU WISH PREVIEW
September 13
Open Space Theatre | 55 Whiting Road | 7:30 p.m.
September 14
Open Space Theatre | 55 Whiting Road | 7:30 p.m.
September 15
Open Space Theatre | 55 Whiting Road | 2:00 p.m.
September 15
Open Space Theatre | 55 Whiting Road | 7:30 p.m.
September 16
Open Space Theatre | 55 Whiting Road | 2:00 p.m.
*All single tickets go on sale July 23, 2018 at 10 a.m.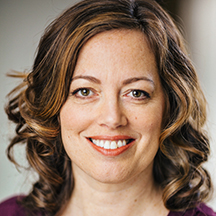 Kim Parkhill
Playwright
Kim Parkhill is a professional artist who performs, devises and writes for theatre from her home bases in Halifax, NS and Grand Lake, NB . Writing credits include: A Good Death (Neptune Studio Theatre, Halifax), Waiting for Go (Bus Stop Theatre), Phaedra's Bed (Atlantic Fringe Halifax), The Again Walkers (Ibsen Bites, LunaSea Theatre, Halifax), Maggie's Musings (published in Rattling the Stage, 2012) and Warp & Weft (co-created with Lizon Richard, Atlantic Fringe, Halifax). She was co-creator/contributing writer for 13 Ways of Looking at a Madman*, Apocalypse*, Four Actors in Search of a Nation (rev)*, Ferry Boat Tales, The Halifax Hearings*, Making It, The Poor House and Café DaPoPo* (DaPoPo Theatre, Halifax *and Germany).
TNB audiences will remember her from her appearance as Agnes in Marion Bridge at the Playhouse.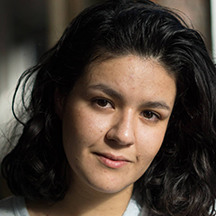 Claudia Guitierrez-Perez
Actor
Claudia Gutierrez-Perez is a recent graduate of the Fountain School of Performing Arts program at Dalhousie University, and is thrilled to be joining this incredible team of artists. Her previous FSPA credits include: Drums and Organs, The Man of Mode, Orlando, Coram Boy and Stage Door.
Thank you to Natasha MacLellan for being her fairy godmother and mentor, to Kim for trusting Claudia with this story, to Alexis and Wally for teaching her so much and for the incredible crew that keeps this Ship sailing. BIG love to Ship's Company and Theatre New Brunswick for supporting such an important story. Claudia feels incredibly blessed to be a part of this journey.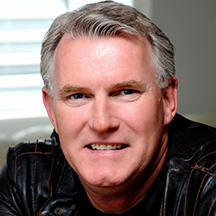 Wally MacKinnon
Actor
Wally MacKinnon is an award winning actor who has worked across Canada in over 100 theatre and film productions. Wally is please to be back on the Theatre New Brunswick stage and to be working with a great cast and crew. Past productions with Theatre New Brunswick include: Ethan Claymore, The Hobbit, Dear Santa, Cricket on the Hearth, Skin Flick and The Dollar Woman.
Wally makes his home in Fredericton, with his wife Sandi and son Liam. Look for Wally this fall at Eastern Front Theatre's production of KAMP. www.WallyMacKinnon.com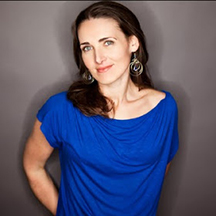 Alexis Milligan
Actor
Alexis Milligan is an actor, movement specialist, director and mother of two. Theatre credits include: 8 Seasons with Two Planks and a Passion Theatre (notably Roselind/As You Like It - Merritt Nominee; 937; Beowulf - Merritt Nominee); Associate Artist, Theatre Gargantua; The Estate (LunaSea Theatre). Film/TV credits include: Some Things Won't Sleep (Foglight Productions - ACTRA Award Nominee); Addison (CBC); Seed (City TV - ACTRA Award Nominee).
Alexis was also principal puppeteer on You & Me, and The Mighty Jungle (KidsCBC). Alexis is also a movement director at The Shaw Festival and has worked at The Stratford Festival and The National Theatre of Norway, Bergen.
For more information about Alexis and her work visit alexismilligan.com and transitus.ca.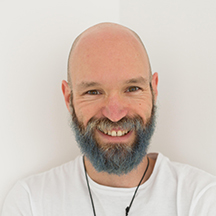 Aaron Collier
Sound Designer
Aaron Collier was born in Prince Edward Island in 1981 and is an award winning multi-talented musician, designer, and digital performance artist. His composition, sound and video design work has toured throughout Canada, Ireland and the UK and he has 14 years of touring and performance experience throughout the world with his previous bands The Jimmy Swift Band and Scientists of Sound. He is the artistic co-producer of Halifax-based live art company Heist and is the 2017/18 Designer In Residency with 2b Theatre.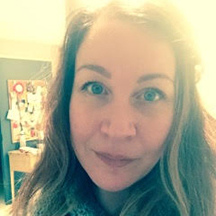 Cathleen McCormack
Costume Designer
Cathleen is delighted to be back for her fourth season at Ship's and to be working for her first time with Theatre New Brunswick. She has designed costumes for; Pugwash, Chasing Champions, The Romeo Initiative (Ships Company Theatre), FallOut (EFT), Under Milk Wood (off the leash), The Merchant of Venice, Cinderelly, Snow White, Alice in Wonderland, Titus Andronicus (SBTS), and The Mother Club (One Light Theatre). She completed a BFA from Concordia University and a Diploma in Costume Studies from Dalhousie University. Cathleen is grateful to be a part this talented team of artists and to be spending time in such a beautiful town.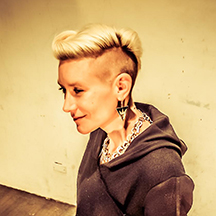 Ingrid Risk
Lighting Designer
Ingrid splits her time as a Lighting Designer and Stage Manager and has received several Theatre Nova Scotia Merritt Awards for her work. Recent Lighting Design credits include: Half-Cracked: The Legend of Sugar Mary (EFT/Neptune), Snake in the Grass (Neptune Theatre), Lullaby: Inside the Halifax Explosion (EFT), Small Things (Neptune/Mulgrave Road), The Donahue Sisters (LunaSea Theatre), Speaking in Tongues (DMV), and Watching Glory Die (Mulgrave Road Theatre). Recent Stage Management credits include: In a World Created by a Drunken God (Neptune), Half-Cracked: The Legend of Sugar Mary (EFT/Neptune), Snake in the Grass (Neptune), five Seasons with Ship's Company Theatre.
Katherine Ryan
Set Designer
Katherine is a set and costume designer based in Nova Scotia. Past design credits include: Shatter, Ship's Portrait, Bump (Ships Company Theatre), In a World Created by a Drunken God, Drowning Girls (Neptune Theatre), Goodnight Desdemona, I'll Be Back Before Midnight (Valley Summer Theatre), Speaking in Tongues, Pageant, Leisure Society, How I Learned to Drive (DMV Theatre Company), How Small, How Far Away, Uncle Oscar's Experiment (Zuppa Theatre), A Doll's House, and The Last Days of Judas Iscariot (Aadia Theatre Company). Training: BA in Technical Scenography (Dalhousie University), MFA in Theatrical Design (University of Alberta).
Barbara Duncan in The Glass Menagerie (1980), written by Tennessee Williams | Directed by Malcolm Black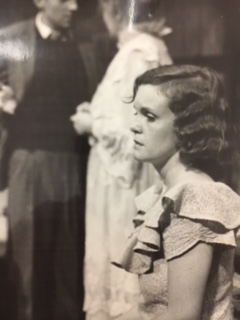 Read the story behind the photo:
Our image for Any Given Moment features a photo of actor Barbara Duncan taken during rehearsals for our 1980 production of the Tennessee Williams play, The Glass Menagerie, directed by Malcolm Black. This image was the first one our design team gravitated towards, using it as part of their pitch for this season's look. We all agreed that it was the perfect choice. There was only one problem. We had to track Barbara down to get permission and all we had was a phone number. Several calls were made and each went straight to an answering machine. After a couple of weeks with no reply, and with our print deadline fast approaching, we decided to swap out the photo. We were all a little heartbroken. Then, just days before we were set to go to print, went get a message from Barbara saying, "Of course, you have my permission. I have such fond memories of work at TNB with Malcolm Black. If every show had been as rewarding as those, I would probably still be in the business". Thank you, Barbara!
LISTEN:
Artistic Director Thomas Morgan Jones talks about the play and why he wanted to include this world premiere in Theatre New Brunswick's 50th anniversary season.