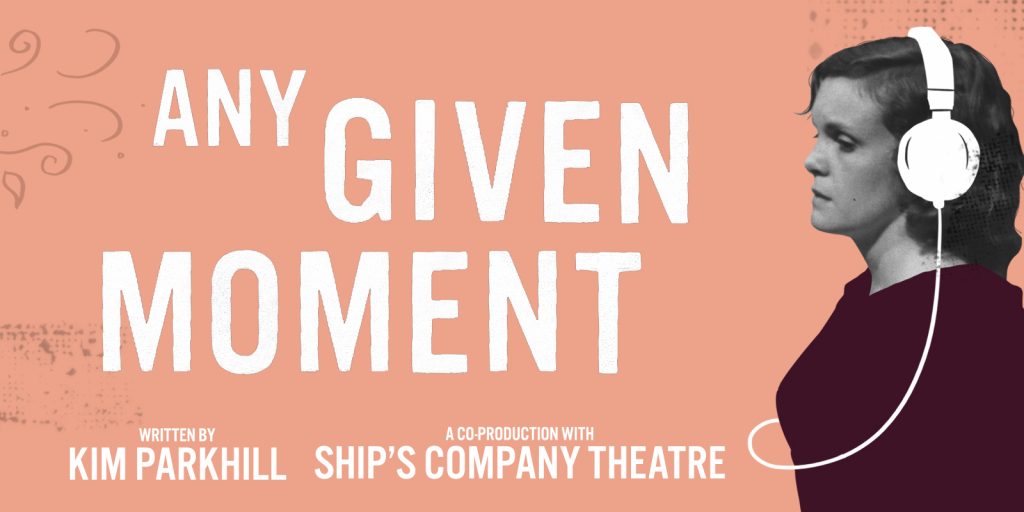 Any Given Moment
A world premiere co-production with Ship's Company Theatre.
A troubled teen, a helicopter mom and a homeless man become trapped together after police lockdown the neighbourhood. Assumptions are challenged and new relationships made as three complete strangers debate the situation and the potential dangers of the outside world. In this world premiere by New Brunswick playwright Kim Parkhill, Any Given Moment presents a touching, hilarious and unexpected looking into the culture of fear and challenges our expectations of what we think we know.
Written by Kim Parkhill

On Tour
September 4-9
Full tour dates will be announced this summer.
Fredericton
September 12
Open Space Theatre | 55 Whiting Road | 7:30 p.m. PAY WHAT YOU WISH PREVIEW
September 13
Open Space Theatre | 55 Whiting Road | 7:30 p.m.
September 14
Open Space Theatre | 55 Whiting Road | 7:30 p.m.
September 15
Open Space Theatre | 55 Whiting Road | 2:00 p.m.
September 15
Open Space Theatre | 55 Whiting Road | 7:30 p.m.
September 16
Open Space Theatre | 55 Whiting Road | 2:00 p.m.
*All single tickets go on sale July 23, 2018 at 10 a.m.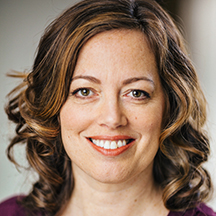 Kim Parkhill
Playwright
Kim Parkhill is a professional artist who performs, devises and writes for theatre from her home bases in Halifax, NS and Grand Lake, NB . Writing credits include: A Good Death (Neptune Studio Theatre, Halifax), Waiting for Go (Bus Stop Theatre), Phaedra's Bed (Atlantic Fringe Halifax), The Again Walkers (Ibsen Bites, LunaSea Theatre, Halifax), Maggie's Musings (published in Rattling the Stage, 2012) and Warp & Weft (co-created with Lizon Richard, Atlantic Fringe, Halifax). She was co-creator/contributing writer for 13 Ways of Looking at a Madman*, Apocalypse*, Four Actors in Search of a Nation (rev)*, Ferry Boat Tales, The Halifax Hearings*, Making It, The Poor House and Café DaPoPo* (DaPoPo Theatre, Halifax *and Germany).
TNB audiences will remember her from her appearance as Agnes in Marion Bridge at the Playhouse.
Barbara Duncan in The Glass Menagerie (1980), written by Tennessee Williams | Directed by Malcolm Black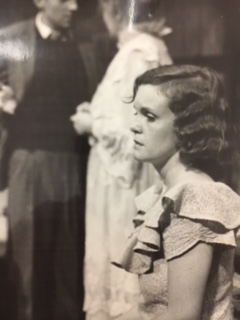 Read the story behind the photo:
Our image for Any Given Moment features a photo of actor Barbara Duncan taken during rehearsals for our 1980 production of the Tennessee Williams play, The Glass Menagerie, directed by Malcolm Black. This image was the first one our design team gravitated towards, using it as part of their pitch for this season's look. We all agreed that it was the perfect choice. There was only one problem. We had to track Barbara down to get permission and all we had was a phone number. Several calls were made and each went straight to an answering machine. After a couple of weeks with no reply, and with our print deadline fast approaching, we decided to swap out the photo. We were all a little heartbroken. Then, just days before we were set to go to print, went get a message from Barbara saying, "Of course, you have my permission. I have such fond memories of work at TNB with Malcolm Black. If every show had been as rewarding as those, I would probably still be in the business". Thank you, Barbara!
LISTEN:
Artistic Director Thomas Morgan Jones talks about the play and why he wanted to include this world premiere in Theatre New Brunswick's 50th anniversary season.